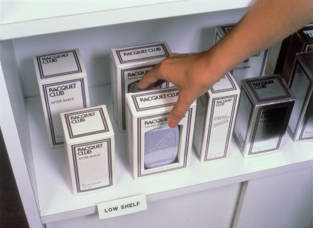 Available in CLEAR only.
Custom lengths, hook & loop or magnetic backed HI•LO™ are also available.
Ample paper inserts are provided.
Laser/lnkJet compatible inserts are available.
Standard Packaging: Ten (10) per box.

End the identity crisis for high and
low shelving.
HI•LO™ eliminates problems in identifying shelf contents in high or low places. This self-adhesive holder attaches to a shelf at a 45 degree angle.
On a high shelf it "looks down" at you.
No need to strain or climb to read the label.
On a low shelf it "looks up" at you eliminating bending and stooping. HI•LO™ is a transparent, seamless label holder that is ideal for libraries, labs, warehouses and other large storage areas.