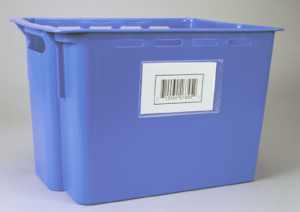 FINALLY! A UNIVERSAL LABEL HOLDER SYSTEM FOR PLASTIC BINS AND TOTES
BIN•BUDDY'S™ Feature A Newly Engineered Self-Adhesive Back That Will Adhere to ANY Space Age Plastic Or Metal Container.
They Offer A Quick And Easy Means Of Changing Labels Every Time
The Contents Of A Storage Container Changes--Just Re-Print The Laser/Ink Jet Compatible Paper Cards (Included) And Re-Insert.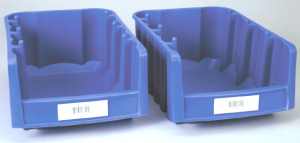 All BIN•BUDDY'S™ Come With A Clear Bar Code Compatible Window that Protects The Label From Dirt And Moisture And Assures Accurate Scanning Every Time.
Inserts Are On 8 ˝" x 11",
Pre-perforated Laser Stock
With Simple Printing Instructions For Standard Word Processing Programs.
BIN•BUDDY™
Go to Top
Stock Number
Size
Load
Primary Application
Quantity/Box
$ / Box
Laser/
Ink Jet
Stock #
Price/
50 Sheets
(qty)
BB-35
3" x 5"
Side
Totes
25
19.50
LI-35-4
20.50(200)
BB-46
4" x 6"
Side
Totes
25
23.00
LI-46-2
20.50(100)
BB-13
1" x 3"
Top or Bottom
Bins
25
16.25
LIS-108-10
20.50(500)
BB-24
2" x 4"
Top or Bottom
Bins
25
20.75
LIS-208-5
20.50(250)