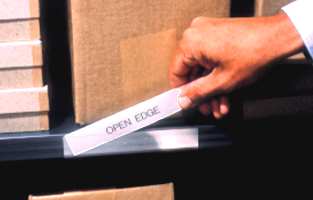 OPEN•EDGE™ -- A quality top loading alternative to HOL•DEX®.
The primary use is for industrial shelving or any large application. Made from sturdy PVC and comes in widths of 3/8", 1/2", 3/4", 1"
& 1-1/2".
The top loading design of OPEN•EDGE™ is
ideal for any shelving application. Can be used full
length or cut to desired length with scissors on
location. Aggressive self adhesive backing will adhere and not fall off any clean, dry surface.
You specify the length and its custom cut to that size. Because the top edge is open the entire length of the strip, you can insert paper labels easily.
Available in CLEAR ONLY.
Ample paper inserts are provided.
Laser/lnkJet compatible inserts are available (for certain lengths.)
Standard Packaging: Bulk-Packaging as shown below or based upon customer specifications.
Paper inserts provided.
---
---
Length
Width
3/8"
1/2"
3/4"
1"
1-1/2"
2"
3"
Price/inch
.110
.110
.120
.120
.140
.165
.195
1" - 36"
Please call 860-632-2026 for a Custom Quote
Open•Edge™ Packages Retail Pricing
Stock #
Width
Length
Backing
Unit.
$ / Unit
Laser/Inkjet
Inserts
Stock #
Price/
50 Sheets
(qty)
OE0506
1/2"
6"
Self-Adhesive
50/pkg
28.00
LI-216-20
20.50 (1,000)
OE1003
1"
3"
Self-Adhesive
50/pkg
17.00
LI-113-10
20.50 (1,000)
OE1006
1"
6"
Self-Adhesive
50/pkg
34.25
LI-116-10
20.50 (500)
OE2006
2"
6"
Self-Adhesive
50/pkg
41.00
LI-516-5
20.50 (250)
OE3005
3"
5"
Self-Adhesive
50/pkg
43.75
LI-35-4
20.50 (200)