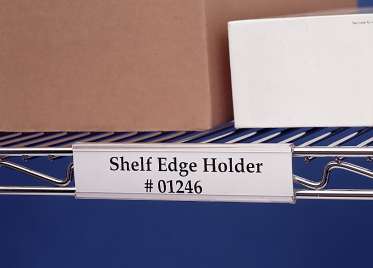 WIRE•RAC™ Label Holders Here's the answer for wire shelving with a 1-1/4" face.
Before this product literally hit the shelves, labeling wire shelving wasn't easy. But finally, this flexible, plastic label holder makes it a breeze.
Just snap it on for a perfect fit.
Snap it off to reposition.
Retrofits major manufacturers' shelving with standard 1-1/4" face. Paper inserts provided. Laser/InkJet compatible
inserts available.


Available in CLEAR only.
Custom lengths available, please consult factory for details.
Laser/lnkJet compatible inserts are available.
Standard Packaging: 25 per bag (3" & 6" lengths), 12 per bag (12" length), 6 per bag (24" length). Paper inserts provided.
---
| | |
| --- | --- |
| Length (all 1-1/4" Facing ) | Stock # |
| 3" | WR-1253 |
| 6" | WR-1256 |
| 12" | WR-1212 |
| 24" | WR-1224 |
---
Snap-On For Wire Shelving
Label Holders
Go to Top
Stock #
Length
Unit
$ / Unit
WR-1253
3"
25/bag or Bulk
20.25
WR-1256
6"
25/bag or Bulk
35.25
WR-1212
12"
12/bag or Bulk
31.25
WR-1224
24"
6/bag or Bulk
31.25
Available in CLEAR only
Standard Bag: 25 per bag (3" & 6" lengths), 12 per bag (12" length), 6 per bag (24" length). Paper inserts provided.
(laser/inkjet insert sheets available)